Do you need more confidence or experience in fixed appliance cosmetic tooth alignment (e.g. C-Fast, Six Month Smiles, QST)?
Join Dr Sunny Luthra and Dr Kiran Juj as they walk you through a fixed labial C-Fast case, with step-step instructions and live bond up on a patient
THIS COURSE ENTITLES YOU TO RECEIVE ONE FREE C-FAST CASE WORTH UP TO
£459

SO YOU CAN GET STARTED STRAIGHT AWAY*
Hands on Cosmetic Tooth Alignment Course
---
START: 9:30 AM FINISH: 5.30 PM
REGISTRATION: FROM 8.30AM
DATES & VENUES
MANCHESTER – 29TH SEPTEMBER, VENUE TBC
IRELAND – 12/13TH OCTOBER, VENUE TBC
LONDON -26TH OCTOBER & 1ST DECEMBER
MORE VENUES TO BE ARRANGED
LONDON VENUE:
CAPITAL DENTAL
62 TUDOR ROAD
HAMPTON, TW12 2NF
*Invitation to bring your own case is on a first come first serve basis. The case must be first approved by either Dr Sunny Luthra or Dr Kiran Juj. It is your responsibility to ensure you have appropriate radiographs prior to bond up on the day.
CAPITAL DENTAL COSMETIC TOOTH ALIGNMENT
HANDS-ON COURSE
BY DR SUNNY LUTHRA & DR KIRAN JUJ
OUR HANDS-ON COURSE EXPANDS UPON YOUR EXISTING KNOWLEDGE OF COSMETIC TOOTH ALIGNMENT WITH PARTICULAR EMPHASES ON CASE ASSESSMENT, CASE SELECTION, CONSENT AND PRACTICAL TECHNIQUES
AIMS
TO ENABLE GENERAL DENTAL PRACTITIONERS TO CONSIDER AND IMPLEMENT THE CONCEPT OF COSMETIC TOOTH ALIGNMENT INTO TREATMENT PLANNING OF COSMETIC DENTAL CASES
OVERVIEW
MORNING THEORY SESSION
OVERVIEW OF WHAT CAN BE ACHIEVED WITH COSMETIC TOOTH ALIGNMENT SYSTEMS
DISCUSSION OF DIFFERENCES BETWEEN COMPRHENSIVE ORTHODONTICS AND COSMETIC TOOTH ALIGNMENT
REVIEW OF THE BIOLOGY OF TOOTH MOVEMENT
CASE SELECTION
CASE ASSESSMENT
CONSIDERATIONS IN GAINING VALID CONSENT
APPROPRIATE RETENTION THEORY AND PROTOCOLS
DISCUSSION AND DEMONSTARTION OF BASIC PRINCIPLES AND TECHNIQUES FOR CONTROLLED TOOTH MOVEMENT
AFTERNOON SESSION
LIVE CASE ASSESSMENT PRACTICAL
DISCUSSION AND DEMONSTRATION ON HOW TO BOND UP A CASE ON A LIVE PATIENT
OPPORTUNITY TO BRING YOUR OWN PATIENT SO THAT YOU CAN BOND-UP YOUR CASE UNDER DIRECT SUPERVISION WITH STEP-BY-STEP GUIDANCE AND TIPS TO IMPROVE YOUR TECHNIQUES
Please contact us today on sunny@capitaldental.net or kiran@capitaldental.net
Video Testimonials
Testimonials
Hi Sunny,

I found the course very helpful and informative. The course content and treatment was excellent. Placing brackets/wires was never my subject of interest until recently. Cfast totally changed my mind as it is non-invasive, and involves only the anterior teeth with no change of occlusion, and thus fulfilling patient's expectations in a short time. After yesterday's course, I feel confident, informed and ready – I cannot wait to start off with Cfast.I would also like to thank your team for their hospitality.

Thank you much.

Kind regards,
Bhavana

Dear Cfast team

I am writing this mail to express my appreciation for all the support and prompt help provided by the Cfast team since the day I have attended the one day course in Solihull with regards to case selection, payments, postage, delivery, lab coordination etc. I finally did the upper arch bracket bonding of my first case with much ease and confidence due to the level of support offered.

I would also like to take this opportunity to thank Dr. Luthra and Dr. Juj with whom I attended the one day hands on practical course just a day prior to my case. It was a great day of learning providing practical tips and tricks on how to do and what to do in different scenarios. Both the tutors were amazing and while the first one day course was more of an orientation, I feel the practical course at Capital Dental is much recommended to put together all the learning and how to clinically execute it.

I look forward to doing more of Cfast cases and offer a wide range of treatment options to my patients.

Thanks again to everyone
Poonam

Dear Cfast Team, Sunny and Kiran,

Cfast is such a fantastic way to align patient's teeth and give them a beautiful smile. I'm happy that I come across with this course.

I would like to share my feedback on my experience with the cfast.

First time I heard about the cfast was from Dr. Sunny Luthra's hands-on course in January 2019. This is where I learnt everything about using cfast and short term ortho.

It was a great experience because I was able to take one of my patients on the course and do the live treatment under commendable tutors Dr. Sunny Luthra and Dr. Kiran Juj. They showed me the live demonstration on my patient, which gave me enough confidence to start a case on my own.

After that I attended Cfast introductory course (recommended by Sunny and Kiran) to understand how the whole process works in terms of dealing with the lab. Both courses have been very helpful to me to start my cases independently.

In last 5 months, I've finished one case and have 3 ongoing cases. Also, I am doing 1-2 consultations per week.
Because we are getting so many queries regarding cfast these days, my Principle Dentist decided to do the course as well as make our clinic Cfast provider fully. also attended the course today. He has attended the introductory course today itself.

The reason I'm writing this feedback is before doing Dr Sunny,s course on cfast; I already did Invisalign full 2 years ago, clearbraces (their ABB course) one year ago, but was never able to do a single patient. Even though they were all hands on courses but the training was not adequate enough to give me confidence to start working on a patient on my own.

Whereas, when I did Cfast introductory course together with Dr Sunny's course, all my learnings made sense and understood it's not that difficult.

With this feedback, I would like to thank you all for developing such a useful, informative courses, which not only helped me to improve my skills but also perform better professionally.

Hope you all don't mind reading my lengthy essay

Jokes apart thanks once again for introducing me with Cfast. A life changing game for professional dentists

Yours Sincerely
Apeksha Tiwari
Associate Dentist
(C-fast provider)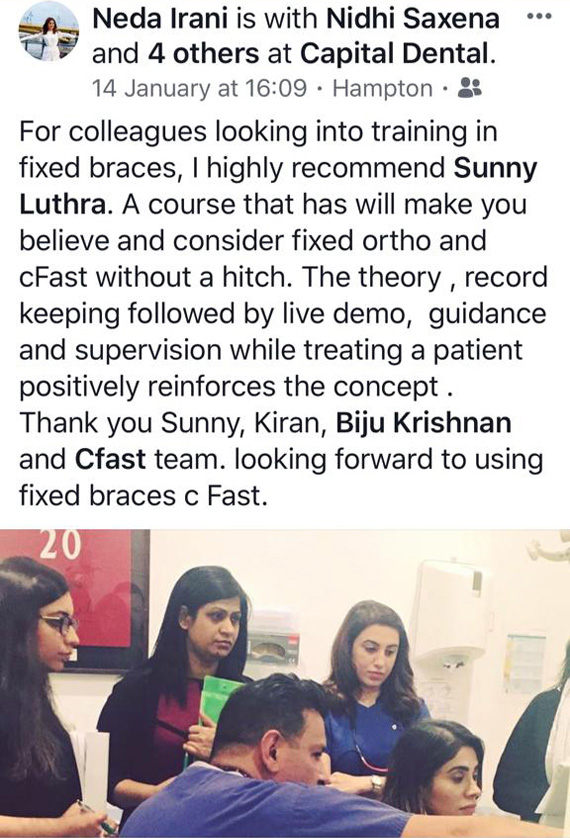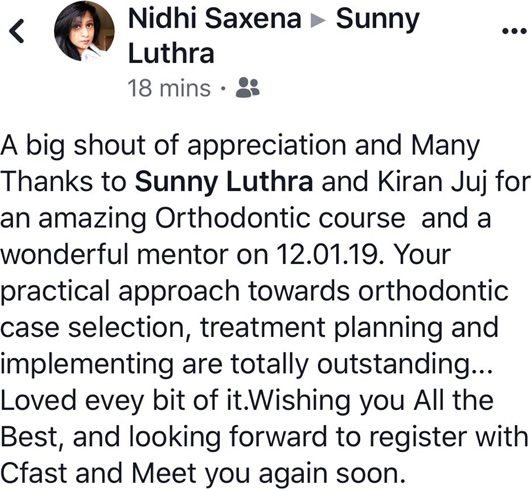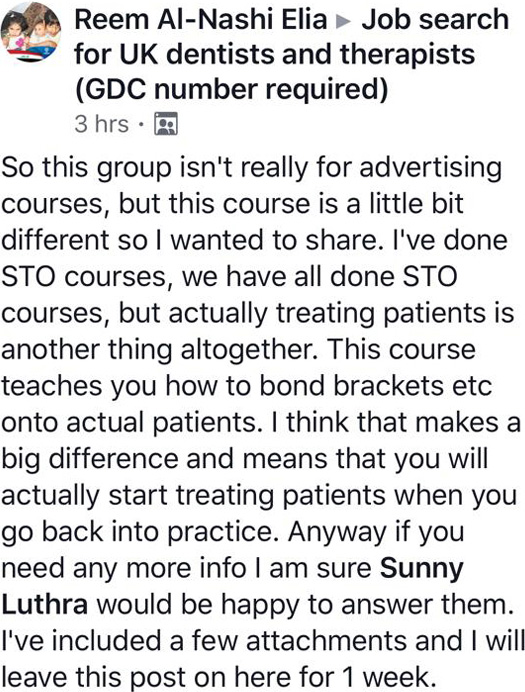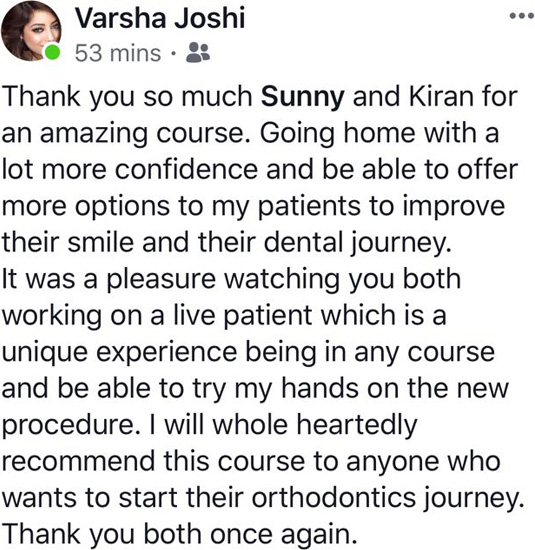 *Subject to Conditions