Do you need more confidence or experience in fixed appliance cosmetic tooth alignment (e.g. Six Month Smiles, QST)?
Hands on Cosmetic Tooth Alignment Course
---
START: 9:30 AM FINISH: 5.30 PM
REGISTRATION: FROM 8.30AM
DATES & VENUES
MANCHESTER – 29TH SEPTEMBER, VENUE TBC
IRELAND – 12/13TH OCTOBER, VENUE TBC
LONDON -26TH OCTOBER & 1ST DECEMBER
MORE VENUES TO BE ARRANGED
LONDON VENUE:
CAPITAL DENTAL
62 TUDOR ROAD
HAMPTON, TW12 2NF
*Invitation to bring your own case is on a first come first serve basis. The case must be first approved by either Dr Sunny Luthra or Dr Kiran Juj. It is your responsibility to ensure you have appropriate radiographs prior to bond up on the day.
CAPITAL DENTAL COSMETIC TOOTH ALIGNMENT
HANDS-ON COURSE
BY DR SUNNY LUTHRA & DR KIRAN JUJ
OUR HANDS-ON COURSE EXPANDS UPON YOUR EXISTING KNOWLEDGE OF COSMETIC TOOTH ALIGNMENT WITH PARTICULAR EMPHASES ON CASE ASSESSMENT, CASE SELECTION, CONSENT AND PRACTICAL TECHNIQUES
AIMS
TO ENABLE GENERAL DENTAL PRACTITIONERS TO CONSIDER AND IMPLEMENT THE CONCEPT OF COSMETIC TOOTH ALIGNMENT INTO TREATMENT PLANNING OF COSMETIC DENTAL CASES
OVERVIEW
MORNING THEORY SESSION
OVERVIEW OF WHAT CAN BE ACHIEVED WITH COSMETIC TOOTH ALIGNMENT SYSTEMS
DISCUSSION OF DIFFERENCES BETWEEN COMPRHENSIVE ORTHODONTICS AND COSMETIC TOOTH ALIGNMENT
REVIEW OF THE BIOLOGY OF TOOTH MOVEMENT
CASE SELECTION
CASE ASSESSMENT
CONSIDERATIONS IN GAINING VALID CONSENT
APPROPRIATE RETENTION THEORY AND PROTOCOLS
DISCUSSION AND DEMONSTARTION OF BASIC PRINCIPLES AND TECHNIQUES FOR CONTROLLED TOOTH MOVEMENT
AFTERNOON SESSION
LIVE CASE ASSESSMENT PRACTICAL
DISCUSSION AND DEMONSTRATION ON HOW TO BOND UP A CASE ON A LIVE PATIENT
OPPORTUNITY TO BRING YOUR OWN PATIENT SO THAT YOU CAN BOND-UP YOUR CASE UNDER DIRECT SUPERVISION WITH STEP-BY-STEP GUIDANCE AND TIPS TO IMPROVE YOUR TECHNIQUES
Please contact us today on sunny@capitaldental.net or kiran@capitaldental.net
Video Testimonials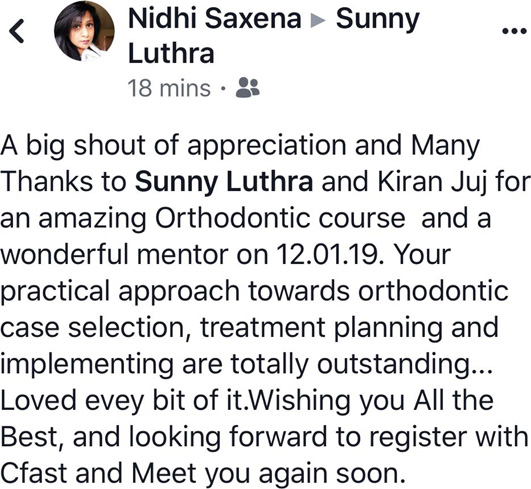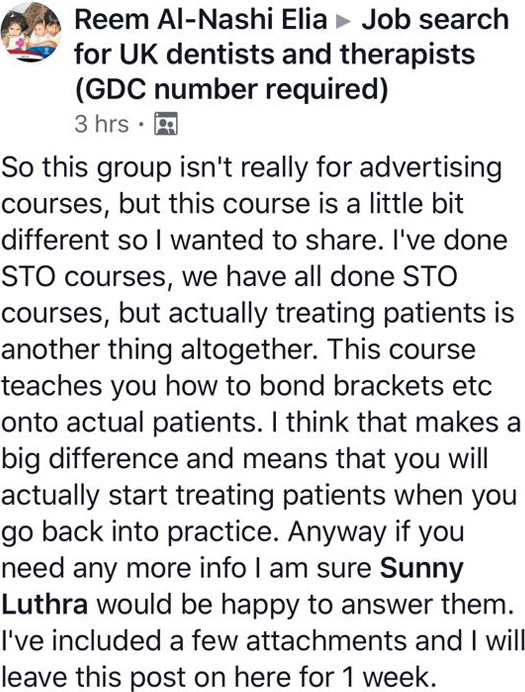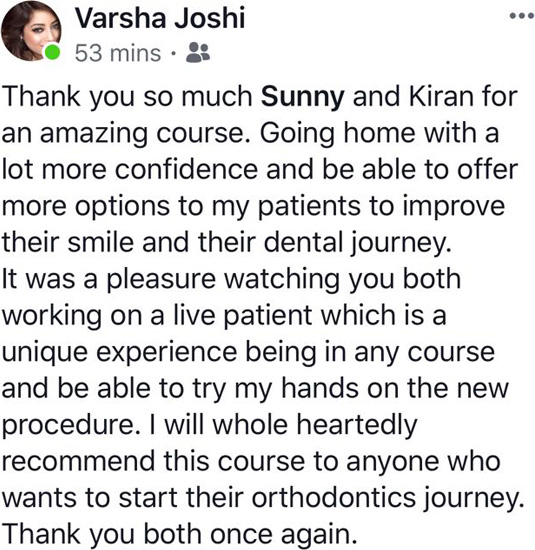 *Subject to Conditions